The last day of the training was dedicated to the creation of an action plan for the reconstruction of Himmelbeet. Vera, the Romanian partner of the EURBANITIES project, gave us some analysis methods to propose the most relevant action plan possible. This was notably the case with the analysis of the levels of involvement of the stakeholders in a project, the use of the project management triangle method (a qualitative goal depending on the scope, cost and time) and the SMART goals tool to describe and express the objectives in the clearest and simplest way. The presence of one of the members of the community garden was an important element for us to enrich our exchanges and proposals formulated individually on post-its. Here are some examples:
– To have a stage that will give a boost to young local musicians/artists/poets.
– To offer co-creation workshops with the neighbourhood, an empty space that teenagers can decorate as they wish, as well as events to share food, seeds, etc.
– Promote the inclusion of all publics (disabled, disadvantaged), the transgenerational aspect and multiculturality.
– Installing sports and relaxation facilities such as a slackline.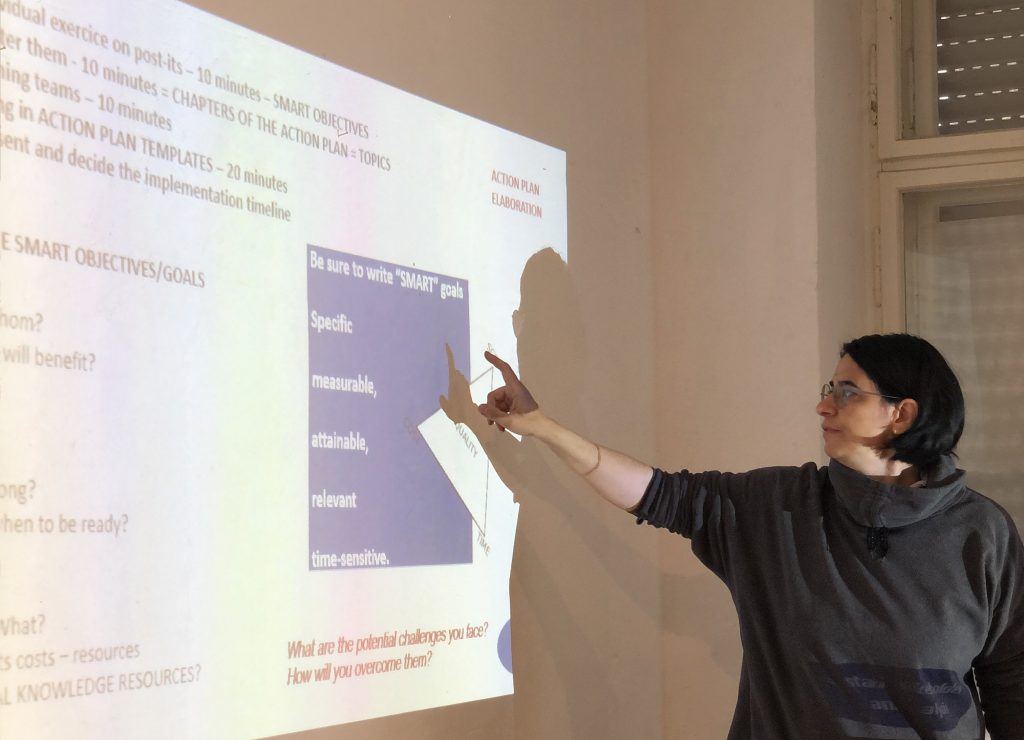 The next step was to sort the proposals according to the different phases of the project:
1 – Online communication and public relations includes collecting feedback from residents.
2 – The reconnection stage consists in finding the numbers of former members through invitations in the mailboxes for example.
3 – The administrative and procedural stage consists of informing the representative persons of the green administration office about our garden project at the beginning of the project.
4 – The need to offer outreach includes the creation of events and workshops with local people.
5 – The last step is to federate schools & other social institutions/partners via participatory council to allow people to share what they want to create, implement, improve.