During day 3 of the UCELab exchange, we had the opportunity to visit Garage Grande, one of the exchange Case Studies. The history of this regeneration project is quite bizarre because Garage Grande, before becoming a space dedicated to the Viennese community, was actually… a real garage! The garage building, though, during time was not respecting anymore some structural criteria and has been sold to private investors. In the meantime of changing its use, the space has been given to the neighbour community.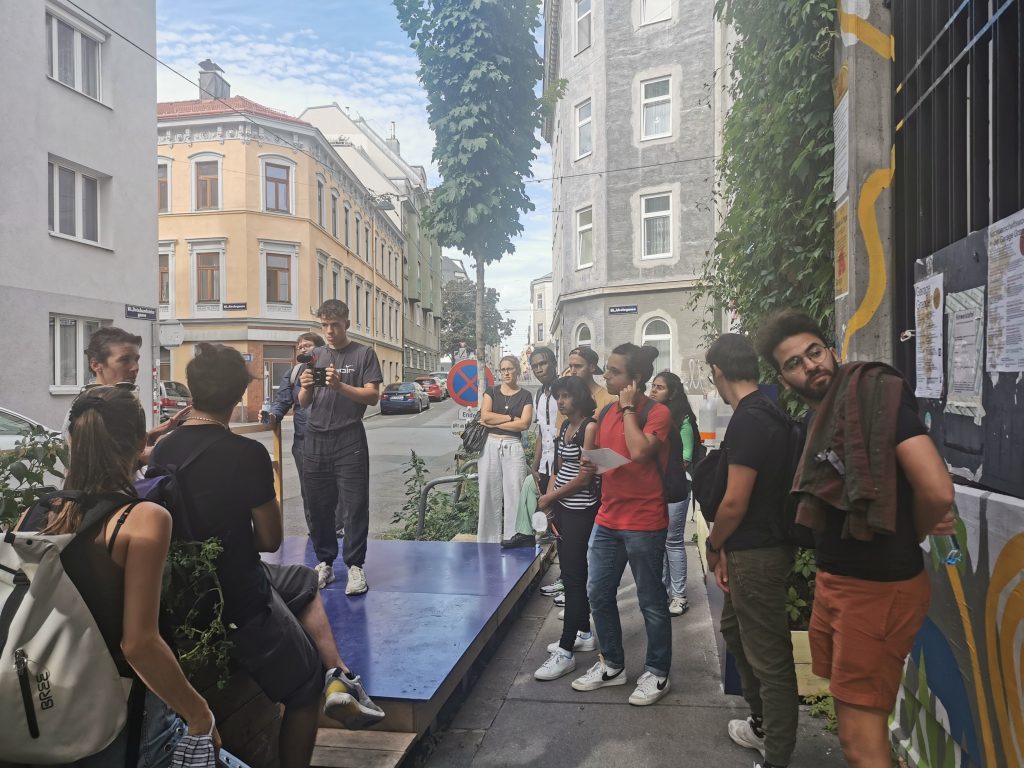 Barbara, one of the architect and founder of the Garage Grande experience, told us the story of this place, explaining that it was born primarily as a need to provide the local community with green spaces and plants that would offer a place where people could "breathe" clean air in the center of a big city. Cities are getting hotter because climate change and associated challenges in cities affect us all. In this context, one of the aims of Garage Grand is to shows what plants can do to improve the microclimate in densely built-up cities and how important they are for cooling in increasingly hot summers. One of the most striking features of this space, in fact, is the presence of greenery, which can be spotted not only in the facades and pots placed outside, but also on the upper floors where several people in the neighborhood have reserved to grow vegetables and flowers of various kinds.
The large spaces of Garage Grande, whose use has been temporarily offered to the community while waiting to change its destination, are a real chance of place making offered to the neighborhood. Here different kinds of activities happen: the space can be used by everyone as a real garage, but also as a place where to practice sports: such as yoga class, climbing… Also, Garage Grande is a place where some local artists can have a studio-like-space were to exercise and store they creations and of course, confront with the Garage Grande users.

As Barbara told to us, Garage Grande is a space in continuos transformation and attended by different types of people of different ages. This space in fact, hosts different types of events that welcome from the oldest to the youngest, there are musical events, but also educational that aim to include as many people as possible in the creation of a common space and built by the citizens of the neighborhood.