During the first night of the UCELab project, all participants participated an activity of film screening took place.
After the screening activity, we were involved in a discussion with some of the night guests who told their experiences of urban regeneration. In particular, one of the Case Study we discussed, was that of Scugnizzo Liberato, a social centre located in the very historical centre of the city of Naples. A group of locals decided to join forces in order to give birth to a common for the city and for its citizens. In particular, they worked in sinergy to regenerate an abandoned building which was the former juvenile prison, with the aim of returning this fosaken place, long since disued, to its community.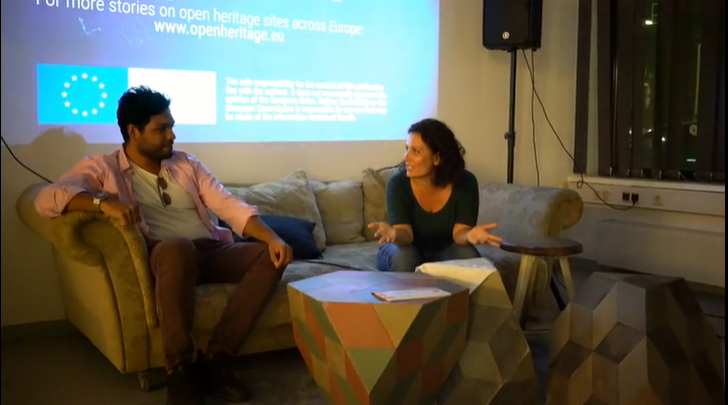 The discussion was really stimulating especially in relation to the role that these regenerated places can have in the lives of the people who live in these territories, beyond the tourist offer. The point is that this kind of intervention stems from the will to create spaces for citizenship, especially when it comes to abandoned buildings. The reflection we did during this activity, thanks to the host experience, concerned precisely this, showing how each city has its own needs and its own way of managing the assets to be invested in the preservation and enhancement of cultural heritage. Very often, in fact, what is lacking is a real support from the institutions that in some cases even discourage this type of grassroots initiatives, while in others they are in favour and even work to make these activities flourish, contributing to the preservation of abandoned spaces and returning their use to the community.
The Scugnizzo Liberato Case Study has given us the opportunity to think about how every urban reality has its own distinct and different needs, which cannot be summarized, nor unified with simplicity. For example, we discussed about children's spaces: while in Germany the youngster generations have ample green spaces and a more genuine contact with nature, in large cities, such as Naples, this relationship with green is reduced, and there is rather a relationship of proximity, shaped by the morphology of the city's space, its narrow streets and the culture of living public space. For this reason, the approach to regeneration and the call for community participation are processes that must start from different cultural roots and must be contextualized starting from the territory in which the interventions are to be implemented, in order not to distort them and to implement initiatives that are inclusive and of real value for that specific territory.